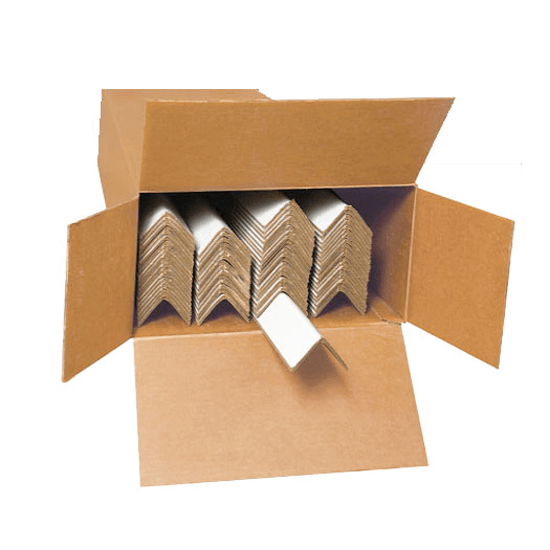 Corner Boards
2″, 2.5″, 3″ Width and Diameter
12″ to 72″ Length
.120 to .225 Thick
By the case or by the skid
Direct Supply, Inc. provides corner boards (edge protectors) in a variety of different sizes, materials and quantities! Get extra protection for your packaged goods. Contact us today to find an edge protection solution for your business.
When it comes to packaging and shipping, ensuring the safety and stability of your goods is important. The logistics industry has a variety of packaging systems that help streamline the shipping process. One tool that is often overlooked but highly effective is the use of corner boards. These packaging materials are simple and affordable, and they play an important role in protecting your cargo during transportation.
Corner boards are a practical solution for industries that involve shipping on pallets. They can be used in any part of the supply chain, from materials to finished products, as well as in warehousing or eCommerce products. Regardless of product dimensions, corner boards provide added protection during the shipping process and reduce the risk of damage.
Whether you are involved in shipping or have a need for secure packaging, recognizing the significance of corner boards can help prevent potential damage and financial losses.
So What Is a Corner Board?
A corner board (also known as edge protectors) is a device used to reinforce and protect the corners of different types of packaging — like boxes or pallets — during transportation and handling.
Corner protectors are useful for stacking or strapping boxes or palletized loads. They assist in creating a unitized load, distribute weight evenly and protect corners from damage. They also have custom print options with company logos or information for branding purposes.
Corner boards provide protection from cargo straps damaging boxes or items being stacked on a pallet. They form a unitizing frame around the pallet load along with the other edge protectors and straps. This leads to greater stability and even weight distribution. Corner boards really do play a crucial role in safeguarding packaging during transit.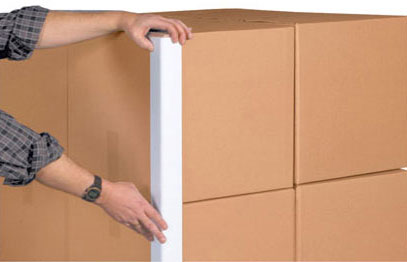 What Are Edge Protectors Made Of?
They are commonly made from durable materials such as cardboard, recycled paperboard, plastic, or metal, and are formed to create a rigid right-angle shape to provide corner protection for fragile items. Most are 12″ + in length to provide support, vertical stability, and to reduce potential damage to the packaged items.
Reasons to Use Corner Boards for Pallets
The packaging industry has many tools to streamline your shipping process and help keep shipping costs down. There are many reasons to use edge protectors, but here are a few:
Edge protectors provide extra support and stability to pallets, ensuring that they can withstand heavy loads without collapsing.
They help to prevent damage to the corners of pallets during transportation, reducing the risk of product damage.
Edge boards can also help create a more uniform weight distribution and superior stability for stacked products.
Corner boards can be easily attached and detached from pallets, making them reusable and cost-effective.
The use of corner boards enhances the overall safety and security of palletized goods during storage and transportation.
Edge protectors can be adapted to accommodate various pallet sizes and requirements, offering a customized solution for a range of industries and applications.
Cardboard edge protectors can be made from recycled paper, helping to reduce your carbon footprint.
Corner Board Sizing
Corner boards are a great way to add maximum protection and structure during the shipping and storage of any type of product. It's important to make sure that the size of corner boards you choose is right for your needs. To get it right, you should measure according to the corner board specifications, as they come in a variety of sizes.
Custom Leg Lengths
The leg length One and Two are available from 1.5″ to 3″. This means that you should measure each side of your object where you need the corner board. This way, when placing your order, you can be certain that you have specified the length requirements correctly.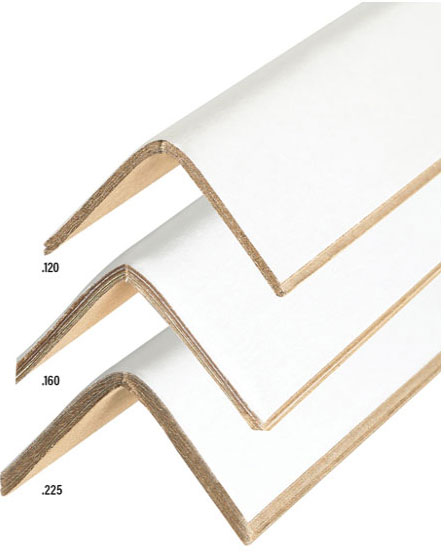 Corner Boards Thickness
You also need to double-check the Caliper, which should range from .100″ to .250". This measurement refers to how thick each side of the corner board is. Ensuring accuracy when ordering may save time when it comes to using it for your project. All in all, taking these measurements will help make sure that your end product is as strong and secure as possible.
Ordering Corner Board Edge Protection from Direct Supply
Corner boards are available for purchase in either case or skid quantities.
2″, 2.5″, 3″ Width and Diameter
12″ to 72″ Length
.120″ to .225″ Thick
By the case or by the skid
For more information, you can look at our catalog located at the top or bottom of the page, or contact Direct Supply today for a custom quote!