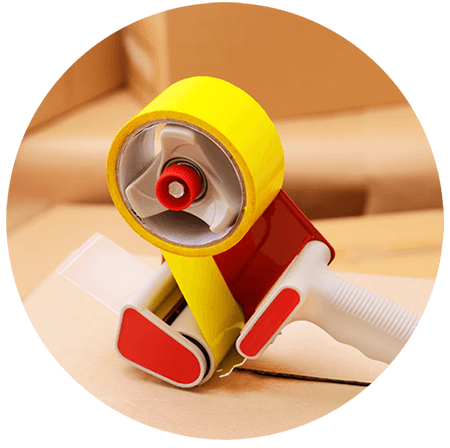 Packing Tape
Providing All Popular Tapes:
Hot Melt
Acrylic
Water Activated
Masking
Strapping
"Quiet" Tape
Transfer/Tamper Evident
When choosing the best packing tape for your business, there are many options out there to consider. You want to make sure your products are packed securely, but you also want to make sure whatever you choose is cost effective for your business. Don't forget to take into account the different properties of each tape when making your evaluation.
Direct Supply can help you make the best choice for your business, but below are some guidelines about what you'll want to look for to help make an informed decision.
How to Choose the Best Packing Tape For Your Needs
Adhesive
Adhesive is the most important consideration when choosing a packing tape. You need something that will stay in place on whatever material it is you're applying it to and keep the package's contents safe from falling out.
Many times, boxes and packages in transit may be roughly handled, so you need tape that will not come apart from the packaging under rough conditions. You don't want your packages to be damaged or wind up with missing items.
Width
Typically, packing tapes are either two or three inches in width. When you're working with a small to medium sized box that is relatively lightweight, using a two inch width will be adequate. If the box is large or heavy, you'll want to go with a three inch width to make sure it stays in place.
Thickness
Typically, packaging tapes are between 1.6 and 3.0 mils, or thousandths of an inch. For packages that are about 10 pounds and lighter, you can use a 1.6 mils tape. If your package is in the 10 to 20 pound range, you'll want to use 1.9 mils. Anything over 20 pounds, you should use a 3.0 mils tape.
Color
You can get packaging tapes in any color if you want to, but for the most part, people use clear tape. It's the most cost effective. You should only use different colors if it's important to your brand or it's something special that you wanted to do for a short run.
Roll Length
It's important to pay attention to roll length when purchasing packaging tape. The majority of tape rolls are designed for handheld dispensers and are available in either 55 yard or 110 yard lengths.
Quantity
You usually buy packaging tapes by the case. For two inch tape, there are 36 rolls in a case and for three inch tape, there are 24 rolls. You usually get the best price when buying full cases.
Manufacturer
Brand names tend to be more expensive, but are usually of better quality and may provide a performance guarantee, so keep that in mind when making your decision.
Kinds Of Tape
Direct Supply is able to cover all your tape needs, including the following:
Hot Melt
Hot Melt tape is a great choice when shipping boxes. It offers superior holding power and high initial tack. This is a great choice to make sure your packages are kept intact.
Water Activated
Water Activated tape is exactly what it sounds like. It becomes sticky when it is moistened. This tape is usually three inches wide.
Acrylic Tape
Acrylic tape is great long-term storage in extreme temperatures, with its tack able to endure a range from 32F to 140F. This makes it great for applications where a package needs to be kept cold (ex: food in boxes that needs to be refrigerated). And when we say "long-term storage," we mean that it can maintain adhesion for over three years. It is our second most popular tape, right after Hot Melt tape.
Transfer Evident or Tamper Evident Tape
Transfer evident tape will allow you to easily be able to tell if the package was tampered with. If tape is peeled away from the package, it leaves or "transfers" an OPENED message to the box (almost like a secret message).
Tamper evident tape usually displays a pattern on the outside of the box that makes it difficult or impossible to realign if the package has been opened.
Either of these tapes would be a good choice for packaging high value items.
Masking Tape
Masking tape usually isn't as strong, but can be the right choice under certain circumstances. It can also be used for a variety of non-packaging applications in your warehouse.
Strapping Tape
Strapping tape is also known as filament tape and is available in many different tensile strengths. It's great for loads where items within a box might break through with weaker tape. It adds a lot of stability and strength to the packaging.
Quiet Tape is also available and helps to reduce warehouse noise.
Let Direct Supply help you – request a quote! We can find the perfect packing tape to suit your business's needs.
Resources: Choosing the right packaging tape for your boxes