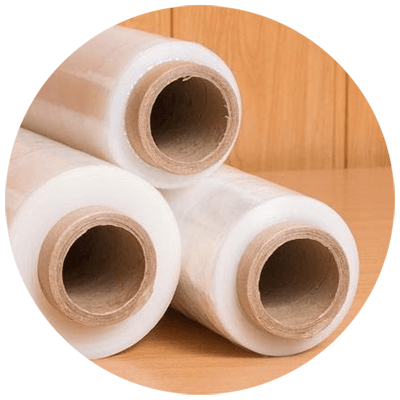 Stretch Film
Maximize Product Protection
Clear & Opaque Wraps
Handheld & Machine Application
All Top Brands Available
Direct Supply, Inc. is one of the top stretch film suppliers in the Chicagoland area. Let us help you find the perfect film to suit your business's needs! Contact us today to find out more.
Why Use Stretch Film?
Stretch film, also known as stretch wrap, is used when you want the contents of your load to be tightly bound while providing options for load identification based on the film's opacity (source: Wikipedia).
It is generally a high tensile plastic film and is different from shrink film, which is a plastic film that's applied loosely to an item and then shrinks to a snug fit when heat is applied.
Direct Supply also offers shrink film from a variety of top brands.
Stretch film can be used both for bundling smaller items as well as unitizing pallet loads.
Application Methods
By Machine
In terms of machinery application, stretch wrap can be applied by either semi-automatic or automatic wrappers. Automatic wrappers include turntable wrappers, rotary arm wrappers and rotary ring wrappers. Semi-automatic wrappers come in turntable, rotary arm, and orbital variants.
By Handheld Dispenser
There are a variety options when it comes to manual wrappers:
Extended Core Dispensers use the extension of the film's core as a handle to wrap the product.
Mechanical Brake Dispensers provide a structure that supports the roll of film, while a mechanical brake system is what provides the resistance to stretch the film.
Pole Wrappers are like the Mechanical Brake System, but the brake and roll are at the end of a long pole. This is a more body-friendly design so you don't need to reach down to wrap the bottom or reach up to the top of a load.
What are the Benefits?
Maximize protection of product
Easy dispensing from roll
Certain makes and brands tout reduced noise, coming off the roll smoothly and quietly
High clarity for barcode reading/load identification
Puncture-resistance of certain brands
Different widths to accommodate different size loads
What We Offer – Both Machine & Hand Stretch Films From These Manufacturers
Here's a short list of some of our top manufacturers. Don't see your preferred brand here? Contact us to see if we have it in stock!
AEP
AEP prides itself in leading the market with new innovations and has manufacturing plants in five locations. According to their website, "AEP stretch film keeps you competitive."
AmTopp
This company specializes in machine films, hand films and specialty films. AmTopp stretch film comes in a variety of thicknesses and widths along with a wide range of colored stretch wrap options.
Sigma
Sigma prides itself on the industry expertise of it's staff staff as well as their commitment to customer service.