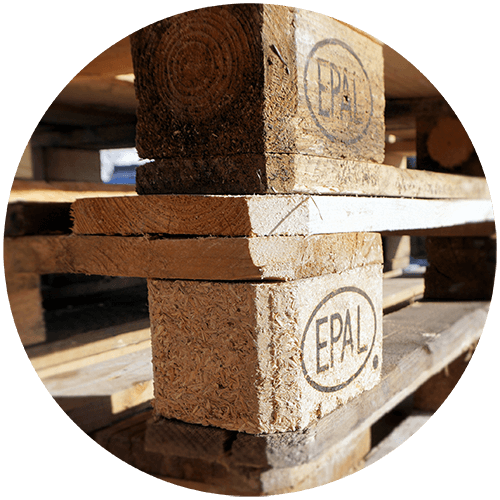 Block and EURO Pallets
Exceptional Durability
Mold Protection
Four-Way Pallet Entry
Used & New Pallets Available
Direct Supply, Inc. offers a wide selection of EURO pallets and block pallets in a variety of sizes. In the shipping world, how do these two types of pallet differ from each other, and how are they different from a traditional standard pallet in the US?
WHAT EXACTLY ARE WE TALKING ABOUT?
EURO Pallets and EPAL Pallets
EURO pallets, also called EPAL-pallets and EUR-pallets, meet the specifications of the European Pallet Association (EPAL). This designation lands pallets in the European Pallet Pool (EPP) which allows for exchange, replacement or repair. Derivatives of the EPAL pallet meet specific needs such as retail use or matching the standard American pallet dimensions.
If your company exports goods to Europe (or is based there), it's likely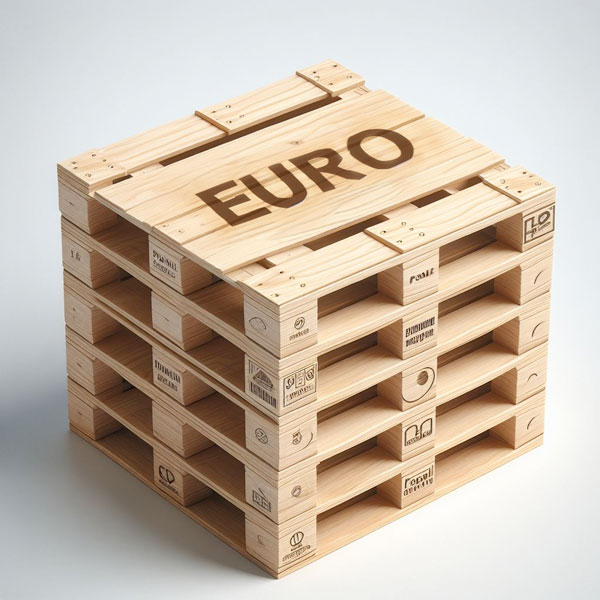 that you're already very familiar with these products. They are commonly used in manufacturing and production industries, and were invented back in the 1960s by European railway companies to standardize cargo loads.
Once in circulation, the EURO designation lands pallets in the European Pallet Pool (EPP) which allows for exchange, repair or replacement. Derivatives of the EPAL pallet meet specific needs such as retail use or matching the American standard pallet dimensions.
These pallets can be made from all the usual materials, so you can get a EURO plastic pallet, or one made of steel, but wooden pallets are by far the most common. Plastic EURO pallets are lighter duty and weigh less than wood (30-35% lighter), helping to reduce shipping costs, but plastic is also a more expensive material.
EURO pallets are more durable and can take a lot of wear and tear. They feature four-way entry, which makes it easier to maneuver with pallet jacks or forklifts, and also offer mold protection, making them ideal for shipping food items. While used EURO pallets typically cost less than their new counterparts, they should be inspected before use to ensure they are in safe working condition. Direct Supply, Inc. has a wide selection of both used and new EURO pallets in a variety of sizes, so you'll be sure to find the right one for your needs.
Regulations and Standards
In order to meet regulatory standards, an EPAL pallet must have an EUR symbol with an oval border on the right block, include the country and date of manufacture/production on the middle block, and date of manufacture.
When goods arrive in other countries on the wrong type of pallet, you're forced to transfer goods to local pallets which incur extra costs and delays the supply chain. Source: exportaglobal.co.uk
Some countries don't allow EPALs – like Germany, for example – because of regulations surrounding fumigation treatment.
EUR-1/EUR1 Pallet Standard Size
Measuring approximately 31 inches by 47.25 inches, the basic EUR-pallet offers convenient four-way entry. This size allows exactly 33 pallets to fit in a standard size shipping container or on a trailer truck platform. 78 nails in a specific pattern secure the wooden pallet. In addition, the type of wood used must meet EPAL standards for strength, durability and mold prevention.
Due to its narrow width, EPAL-pallets allow for access through standard doors. Unfortunately, EUR-pallets fail to fit into traditional ISO containers. Derivative storage, also known as pallet-wide containers, can accommodate the dimensions of the EURO-pallet.
EUR-2 and EUR-3 (EUR2 and EUR3) Pallets Standard Size
Two other popular EURO pallet sizes are closer to the standard American pallet size of 40 inches by 48 inches:
EPAL-2 Industrial Pallet: 1200 x 1000mm
EPAL-3 Industrial Pallet: 1000 x 1200mm
For more information on the various sizes of EPAL pallets, visit the European Pallet Association's website.
Block Pallets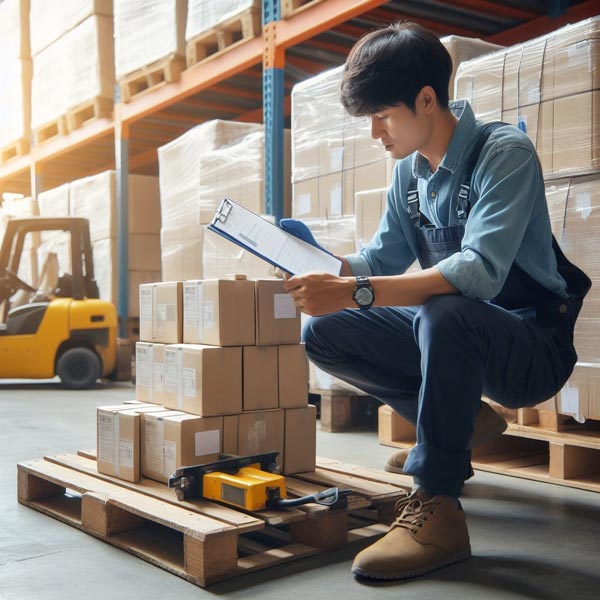 In contrast to EURO pallets, block pallets fall under less stringent guidelines. The wood type, nail choice, nail pattern and method of production can vary with this style of pallet. Therefore, no standard of quality can be assumed.
Standard block pallets measure 39 inches by 47 inches and permit four-way entry in terms of handling. The layout of the lumber in both parallel and perpendicular directions adds strength. The bottom deck board offers uni-directional, perimeter or overlapping base options.
EURO or Block Pallets?
In determining the best pallet, each given application must be considered in light of the following:
1. Weight of the load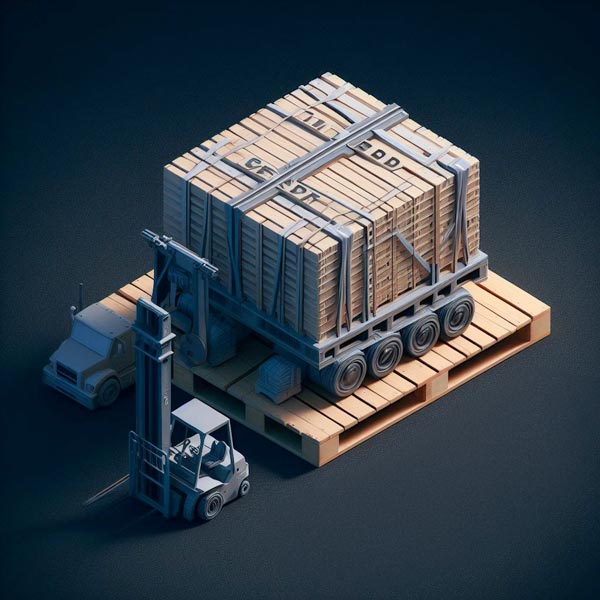 The construction and specifications of the pallet must adequately support your product. EURO pallets tend to use a slightly thicker boards and are ideal for heavy-duty loads. This increases strength over traditional block pallets.
For further examples, a board thickness of 16 millimeters bears 700 kilograms while 20 millimeters supports 1500 kilograms. Matching product weight against board strength helps determine the right pallet. Plus, choosing the correct board strength delivers product and worker safety.
The safe working load, or static load, of a EURO/EPAL pallet is 1500 kg (3307 lb) with a maximum additional load of 4,000 kg (8819 lb) when stacking. The pallet itself weighs around 55 lb. They're an ideal solution for heavy loads traveling internationally.
2. Transport specifications
The dimensions of a given pallet must fit the mode of transport as well as storage at a customer's site. For example, as mentioned, EUR-pallets do not typically fit standard ISO containers. A pallet arriving on site will be returned if storage proves an impossibility.
Traditionally, European pallets run slightly smaller than block pallets. For example, 18 EURO pallets versus 14 block pallets fit national transport standards, while 33 EURO pallets or 26 block pallets make an international transport load.
Stringent specifications ensure the quality of EURO pallets marked by the EPAL and EUR logos along with a verifier's signature. However, generally speaking, these two types of pallets prove quite similar.
3. Heat Treatment
It is mandatory to heat treat EURO pallets, and their moisture content must not exceed 22%. Block pallets remaining in the US (not shipping internationally) do not need to be heat treated.
EURO vs Standard Pallet
Standard Pallet Sizes are larger than those of a EURO Pallet, measuring 120cm by 100cm (47.24″ x 39.37″) compared to 120cm by 80cm (47.24″ x 31.5″). Because of its size, the standard pallet is commonly used for transportation and delivery within the US. Direct Supply offers both EURO/EPAL and standard pallets.
We have block and EURO pallets for sale!
Contact Direct Supply, Inc., the Chicago area's most reliable pallet suppliers, to determine the pallet that best fits your needs. Offering high-performance plastic pallets, EURO/EPAL, block, corrugated, and more.