St Charles IL
Request Your Quote
DIRECTIONS FROM ST CHARLES
via IL-25 N
Head north on IL-25 N/S 5th Ave toward E Main St. Continue to follow IL-25 N
Use the left 2 lanes to turn left to stay on IL-25 N
Direct Supply will be on your left-hand side
Servicing St Charles, Illinois
Direct Supply prides itself on being a premier pallet supplier and packaging supply store in Saint Charles, IL. Serving small and large companies – family owned to Fortune 500 businesses across the country – we offer local, one-stop access for all your pallet, warehouse, shipping and packaging needs. Our customer focused service programs put you in the "green" in terms of cash savings and eco-friendliness.
Even more than selling great products, we love to serve you, our customers. Owner Anthony Farinella believes in building strong relationships with each and every one of Direct Supply's customers. This belief continues as a mainstay of the company's philosophy from its inception in 2002. How else can we truly identify your company's needs and ensure our products and solutions fill your requirements beyond your expectations.
Yes, you, the St Charles customer are our focus. Filling your unique pallet, packaging, warehouse, shipping and industrial service needs is of primary importance to us at Direct Supply. We promise to do so with stellar customer service, attention to detail and expert product knowledge. After all, no one does business quite like you do!
For this reason, we offer a variety of products to increase the success of your Saint Charles business. We offer customizable solutions built through our relationship with you to meet the most specific of needs. Why? Because we believe that your success is our success.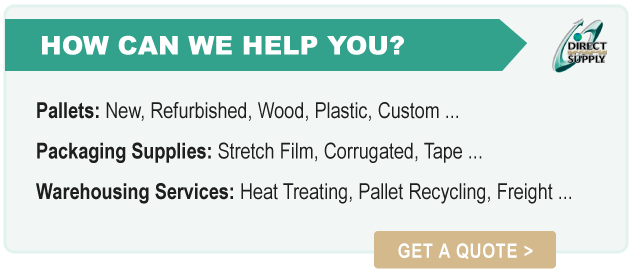 Skids and pallets lay the foundation of your storage and shipping needs. Product weights, materials, fragility and shipping requirements vary by industry. Direct Supply works with you to create custom pallets that protect your products by meeting your exact specifications and shipping requirements.
Standard or custom, wood or plastic, used/reconditioned or new, we have what you need. Heat treated and ISPM 15 compliant, EURO and block, corrugated and compressed wood pallet options are available to fulfill your storage and shipping specifications whether stateside or international. Plus, environmentally conscious products bring peace of mind to companies with an eye to their ecological impact.
Offering customers in the 60175 and 60174 postal codes durable skid solutions in line with your needs at affordable prices is Direct Supply's goal.
Oftentimes, how you secure and protect a shipment determines its condition upon arrival to your customer. Whether a shipment is heading across town, across the country or to the other side of the world, Direct Supply offers Saint Charles businesses the packing supplies necessary to make the trip. We are the one-stop shop for all your pallet and freight securing needs.
Our wide selection of packaging films includes custom designed solutions to protect and secure your unique products. With brands like AmTopp, AEP and Sigma, our high-stretch, puncture resistant shrink or stretch film and stretch wrap is sure to get the job done. Bubble wrap, edge protection, strapping and poly sheeting add even more protection to your shipments. Corrugated boxes, gaylord boxes, packaging tapes, bale wire and even labels get your product ready for on-time delivery anywhere in the world.
Direct Supply offers St Charles a full line of shipping supplies to handle your packaging needs from start to finish.
Direct Supply works with your Saint Charles business to develop a program that reduces your warehouse expenses, guaranteed! We work with your logistics team to find efficient and affordable solutions to your specific warehousing needs.
Warehouse services available in Saint Charles include:
Heat treating of pallets, crates, lumber and dunnage to meet your shipping specifications.
Pallet recycling and buy back programs to save you money and help you go green.
On-site dropped trailer programs to recycle pallets, reduce shipping interruption and increase cost savings.
Brokerage of warehouse sites to move and store your products across country.
Freight transport through LTL and full truck international deliveries.
Designed around your supply chain, these services help you respond to a variety of logistics challenges while decreasing costs.